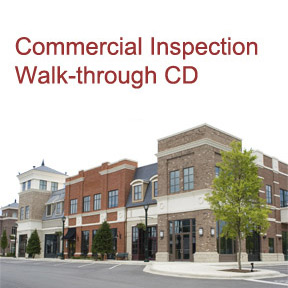 Commercial Inspection Walk-through CD-ROM
$79.00
This field training CD takes you step-by-step through a 3-storey retail/office building inspection.
The Commercial Inspection Walk-through CD-ROM walks you through an inspection of a low-rise office building. We selected a typical office building and inspected it according to the ASTM Standard for Property Condition Assessments. This CD shows you the inspection. It's like being there only better because you can watch it over and over again at your convenience.
This is not a video tape of a classroom training course. In fact it's not a video at all. It's a unique educational technique made popular by Clarus Group. It's very much like attending a seminar. High resolution photographs and voice narration carry you through a complete inspection of a commercial building from start to finish.
The seminar comes on a CD-ROM and runs on your personal computer. View the seminar in your office or on the road between inspections. Pop the disk in the drive and the main menu pops up. Then click your way through the presentation. The entire show is just under ninety minutes long.
The Commercial Building Inspection:
Inspecting a commercial building is very different than inspecting a home. The systems are different; the standards are different. This product is for you if:
If you have ever been curious about what's involved in performing a commercial building inspection.
You would like to start inspecting commercial buildings
You already inspect commercial buildings but would like to find out how another commercial building inspection company is conducting the inspection.
This disk steps you through an inspection of a small office building. The building is three stories with a flat roof. The ground floor is mixed retail and restaurant and the upper two floors are offices and a dental practice. There is a basement area and a crawlspace area. The building is vintage 1930 with lots of interesting things to see including rooftop package units, three phase – 600 volt electrical system, an elevator, and much more.